Corvette Spotlight
July 2000
1993 ZR-1 Corvette
Stock Number 00335 ... SOLD!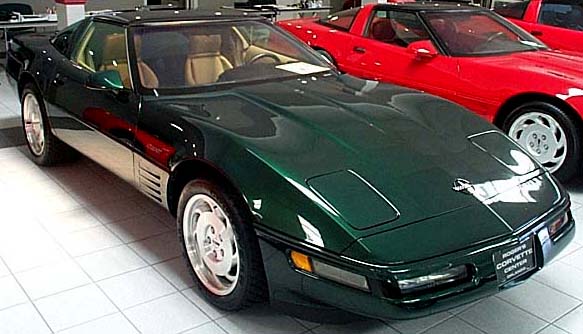 | | | | |
| --- | --- | --- | --- |
| This beautiful 1993 Polo Green ZR-1 with Light Saddle leather interior has been lovingly cared for and is in truly amazing condition. The paint quality is truly immaculate and the interior's condition is equally impressive. 1993 offered the highest horsepower rating of any factory ZR-1, as is evidenced by the spotless 405 horsepower LT5 engine under the hood. Backed up by a 6-speed transmission, putting maximum power to the factory original turbine wheels is exhilarating to say the least. The "King of the Hill" remains unsurpassed in power output and top speed capability, even by the new 2001 Corvettes. And with only 6673 miles, it is prepared to retain that position for years to come. | | | |
<<< Click on any photo, above or below, for a larger version! >>>
---
1993 ZR-1 Corvette
Stock Number 00335

featuring:
Polo Green Exterior
Light Beige Leather
Six Speed
405 Horsepower
Dual Power Sport Seats
Both Tops
Electronic Air Conditioning
Bose CD/Cassette Player
FX-3 Adjustable Suspension
Low Tire Pressure Warning
Factory Window Sticker

Only 6,673 Miles ..... SOLD!
For more information about this or any of our other fine
vehicles, contact Roger's Corvette Center at (407) 628-8300.
---
Past Corvette Spotlight Features
Feb 98 - 1969 Yellow ZL-1 Coupe
Mar 98 - 1996 Black LT4 Coupe
Apr 98 - 1986 Bright Red L98 Convertible
May 98 - 1993 Ruby Red 40th Anniv. Convertible
Jun 98 - 1996 Grand Sport Coupe
Jul 98 - 1996 Competition Yellow Convertible
Aug 98 - 1998 Torch Red Convertible
Sep 98 - 1990 Black ZR-1 Coupe
Oct 98 - 1996 Grand Sport Convertible
Nov 98 - 1999 Black Corvette Hardtop
Dec 98 - 1996 Collector Edition Convertible
Jan 99 - 1990 Black ZR-1 Coupe
Feb 99 - 1980 Duntov Turbo Convertible
Mar 99 - 1990 Dark Red ZR-1 Coupe
Apr 99 - 1995 Yellow Convertible
May 99 - 1995 Indy Pace Car Convertible
Jun 99 - 1999 Navy Blue Convertible
Jul 99 - 1996 Grand Sport Coupe
Aug 99 - 2000 Polo Green Convertible
Sep 99 - 1996 Grand Sport Convertible
Oct 99 - 2000 Millenium Yellow Coupe
Nov 99 - 1993 40th Anniversary ZR-1
Dec 99 - 1962 Tuxedo Black Corvette
Jan 00 - 1969 Yellow ZL-1 Coupe
Feb 00 - 1998 Pace Car Convertible
Mar 00 - 1996 Polo Green Convertible
Apr 00 - 1994 Torch Red ZR-1 Coupe
May 00 - 1994 Callaway Convertible
Jun 00 - 1981 Beige/Bronze Coupe
---
|| Home || Showroom || About || What's New? || Guestbook || Trivia || FREE Pages || Links ||