Corvette Spotlight
June 2000
1981 Corvette
Stock Number 01638
Sorry, this vehicle has been SOLD!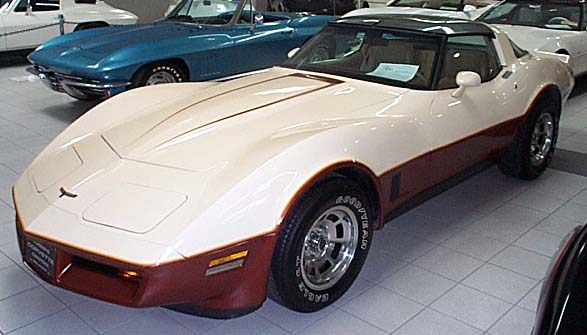 | | | | |
| --- | --- | --- | --- |
| This beautiful 1981 third generation Corvette harkens back to the days when style was everything and the "Shark" was the ultimate statement in style and luxury. Dressed to kill in impeccable two-tone beige over dark bronze paint with a color coordinated camel leather interior, this fine example was ordered with virtually every option available, including the highly desirable aluminum wheels and white letter Goodyear tires. The original owner of this beauty pampered it since new and logged only 6,788 miles in his 19 years of ownership, making sure it stayed looking just like the day it rolled off the assembly line at the then "new" Corvette plant in Bowling Green, Kentucky. | | | |
<<< Click on any photo, above or below, for a larger version! >>>
---
1981 Corvette
Stock Number 01638

featuring:
Two-Tone Beige/Dark Bronze
Camel Leather
Automatic
Power Driver's Seat
Power Door Locks
Glass Tops
Aluminum Wheels
Rear Window Defogger
Electric Twin Sport Remote Mirrors
Cruise Control
Power Antenna
P255/60R-15 Eagle GT Tires
One Owner
Extensive Documentation

Only 6,788 Miles
Sorry, this vehicle has been SOLD!
For more information about this or any of our other fine
vehicles, contact Roger's Corvette Center at (407) 628-8300.
---
Past Corvette Spotlight Features
Feb 98 - 1969 Yellow ZL-1 Coupe
Mar 98 - 1996 Black LT4 Coupe
Apr 98 - 1986 Bright Red L98 Convertible
May 98 - 1993 Ruby Red 40th Anniv. Convertible
Jun 98 - 1996 Grand Sport Coupe
Jul 98 - 1996 Competition Yellow Convertible
Aug 98 - 1998 Torch Red Convertible
Sep 98 - 1990 Black ZR-1 Coupe
Oct 98 - 1996 Grand Sport Convertible
Nov 98 - 1999 Black Corvette Hardtop
Dec 98 - 1996 Collector Edition Convertible
Jan 99 - 1990 Black ZR-1 Coupe
Feb 99 - 1980 Duntov Turbo Convertible
Mar 99 - 1990 Dark Red ZR-1 Coupe
Apr 99 - 1995 Yellow Convertible
May 99 - 1995 Indy Pace Car Convertible
Jun 99 - 1999 Navy Blue Convertible
Jul 99 - 1996 Grand Sport Coupe
Aug 99 - 2000 Polo Green Convertible
Sep 99 - 1996 Grand Sport Convertible
Oct 99 - 2000 Millenium Yellow Coupe
Nov 99 - 1993 40th Anniversary ZR-1
Dec 99 - 1962 Tuxedo Black Corvette
Jan 00 - 1969 Yellow ZL-1 Coupe
Feb 00 - 1998 Pace Car Convertible
Mar 00 - 1996 Polo Green Convertible
Apr 00 - 1994 Torch Red ZR-1 Coupe
May 00 - 1994 Torch Red Convertible
---
|| Home || Showroom || About || What's New? || Guestbook || Trivia || FREE Pages || Links ||