Corvette Spotlight
May 2000
1994 Corvette Convertible
Stock Number 18939

Sorry... This vehicle has been SOLD!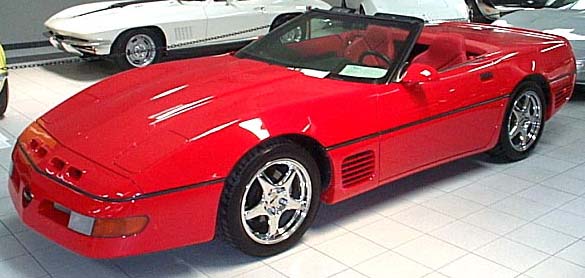 | | | | |
| --- | --- | --- | --- |
| This 1994 Corvette with full Callaway Aero-Body conversion and chrome ZR-1 wheels is undeniably a truly awesome automobile. Sporting the distinctive body panels made famous by Reeves Callaway, and finished in brilliant torch red over a matching red leather interior, this Corvette with rare removable hardtop is anything but stealthy! Under the hood lies a Lingenfelter prepared, 440 horsepower, 383 cubic inch engine backed up with ZF manual 6 speed transmission; perfectly docile but capable of breathtaking performance. A very special car made even more so with only 11,000 miles. | | | |
<<< Click on any photo, above or below, for a larger version! >>>
---
1994 Corvette Convertible
Stock Number 18939

featuring:
Full Callaway Aero-Body Conversion
Lingenfelter 383 Stroker 440 Horsepower Motor
Torch Red Exterior
Torch Red Leather Interior
Black Convertible Top
Removeable Hardtop
Chrome ZR-1 Five Spoke Wheels
Dual Power Sport Seats
FX-3 Adjustable Suspension
Six Speed Manual Transmission
Bose AM/FM Stereo CD/Cassette
Electronic Air Conditioning


Sorry... This vehicle has been SOLD!

For more information about this or any of our other fine
vehicles, contact Roger's Corvette Center at (407) 628-8300.
---
Past Corvette Spotlight Features
Feb 98 - 1969 Yellow ZL-1 Coupe
Mar 98 - 1996 Black LT4 Coupe
Apr 98 - 1986 Bright Red L98 Convertible
May 98 - 1993 Ruby Red 40th Anniv. Convertible
Jun 98 - 1996 Grand Sport Coupe
Jul 98 - 1996 Competition Yellow Convertible
Aug 98 - 1998 Torch Red Convertible
Sep 98 - 1990 Black ZR-1 Coupe
Oct 98 - 1996 Grand Sport Convertible
Nov 98 - 1999 Black Corvette Hardtop
Dec 98 - 1996 Collector Edition Convertible
Jan 99 - 1990 Black ZR-1 Coupe
Feb 99 - 1980 Duntov Turbo Convertible
Mar 99 - 1990 Dark Red ZR-1 Coupe
Apr 99 - 1995 Yellow Convertible
May 99 - 1995 Indy Pace Car Convertible
Jun 99 - 1999 Navy Blue Convertible
Jul 99 - 1996 Grand Sport Coupe
Aug 99 - 2000 Polo Green Convertible
Sep 99 - 1996 Grand Sport Convertible
Oct 99 - 2000 Millenium Yellow Coupe
Nov 99 - 1993 40th Anniversary ZR-1
Dec 99 - 1962 Tuxedo Black Corvette
Jan 00 - 1969 Yellow ZL-1 Coupe
Feb 00 - 1998 Pace Car Convertible
Mar 00 - 1996 Polo Green Convertible
Apr 00 - 1994 Torch Red ZR-1 Coupe
---
|| Home || Showroom || About || What's New? || Guestbook || Trivia || FREE Pages || Links ||