Corvette Spotlight
February 2001
1989 Coupe
Stock # 10930
This vehicle has been SOLD!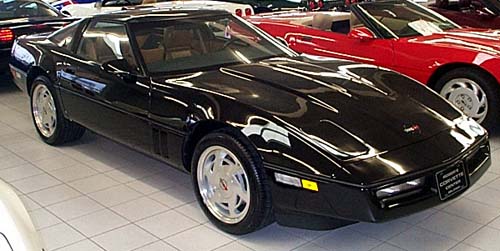 | | | | |
| --- | --- | --- | --- |
| Without question, there are very few early fourth generation (C4) Corvettes that can stand as "tall" as this impeccable 1989 coupe. With its glistening, deep black exterior finish and absolutely flawless saddle leather interior complete with dual power seats, this is indeed a collectible Corvette of the highest quality. With only 2,000 miles, one would expect this remarkable example to be pristine. But upon closer inspection, it appears to be in almost better than new condition. The engine compartment is absolutely spotless and has been so well kept that no detailing was necessary. Each wheel, each tire, every inch of paint is excellent. Many black Corvettes are beautiful, but this one is quite simply breathtaking. | | | |
<<< Click on any photo, above or below, for a larger version! >>>
---
1989 Coupe
Stock Number 10930

featuring:
Black Exterior
Saddle Leather Interior
Automatic Transmission
Dual Power Seats
Electronic Air Conditioning
Bose Cassette Player
Engine Oil Cooler
Radiator Cooling Boost Fan
Heavy Duty Radiator
Performance Axle
Glass Top
Factory Window Sticker

2,000 Miles ..... This vehicle has been sold!
For more information about this or any of our other fine
vehicles, contact Roger's Corvette Center at (407) 628-8300.
---
Past Corvette Spotlight Features
---
|| Home || Showroom || About || What's New? || Guestbook || Trivia || FREE Pages || Links ||