Corvette Spotlight
April 2001
1998 European Export Coupe
Stock # 20121
Sorry... This vehicle has been SOLD!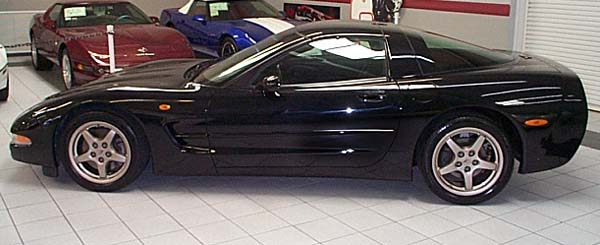 | | | | |
| --- | --- | --- | --- |
| Looking for something different? How about a 1998 European export option Coupe? All European export cars had additional front fog lamps, side-marker turn signals, rear fog lamps, and relocated backup lights incorporated into the taillights. Even the dash is different, with an impressive 300 Km/Hr speedometer (adjustable to American readouts). This Corvette was ordered overseas and took 15 months to be delivered to Manchester, England for the equivalent of $60,000 US dollars!. A very high option car including F-45 Suspension and Magnesium Wheels, it is one of only a handful of Corvettes produced for export-worldwide. Call us today for more info on this rare and beautiful Corvette! | | | |
<<< Click on any photo, above or below, for a larger version! >>>
---
1998 European Export Coupe
Stock Number 20121

featuring:
Black Exterior
Black Leather Interior
Automatic
Dual Power Sport Seats
Dual Zone Air Conditioning
Memory Package
Fog Lamps
Floor Mats
CD Changer
F-45 Real Time Damping Suspension
Performance Axle
Glass Top
Luggage Shade and Parcel Net
Body Side Moldings
Custom Sport Magnesium Wheels

Sorry... This vehicle has been SOLD!
For more information about this or any of our other fine
vehicles, contact Roger's Corvette Center at (407) 628-8300.
---
Past Corvette Spotlight Features
---
|| Home || Showroom || About || What's New? || Guestbook || Trivia || FREE Pages || Links ||