Corvette Spotlight
November 2001
1998 Medium Purple Pearl Metallic Convertible
Stock Number 30825
Sorry... This vehicle has been SOLD!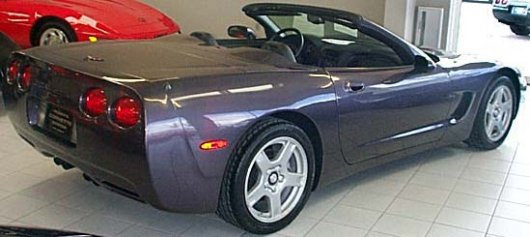 | | | | |
| --- | --- | --- | --- |
| If you are looking for something truly unique and unquestionably beautiful, this rare 1998 Corvette convertible may be just the ticket! Finished in the very unique and attractive Medium Purple Pearl Metallic color, you won't see many others on the road like this one. Only a total of 381 Corvettes, Coupes and Convertibles, were produced in this one year only color. Fully loaded, of course, with automatic transmission, black leather sport seats, active handling, performance axle, CD changer, and other available 1998 options. Contact us today for more details on this beautiful and truly unique Corvette convertible! | | | |
<<< Click on any photo, above or below, for a larger version! >>>
---
1998 Convertible
Stock Number 30825

featuring:
Rare Medium Purple Pearl Metallic Exterior
Black Leather Interior
Black Convertible Top
Automatic
Dual Power Sport Seats
Dual Zone Air Conditioning
Memory Package
Fog Lamps
Floor Mats
CD Changer
Active Handling
Performance Axle
Parcel Net

11,000 Miles
Sorry... This vehicle has been SOLD!
For more information about this or any of our other fine
vehicles, contact Roger's Corvette Center at (407) 628-8300.
---
Past Corvette Spotlight Features
---
|| Home || Showroom || About || What's New? || Guestbook || Trivia || FREE Pages || Links ||