Corvette Spotlight
December 2001
1995 Black Convertible
Stock Number 17210
Sorry... This vehicle has been SOLD!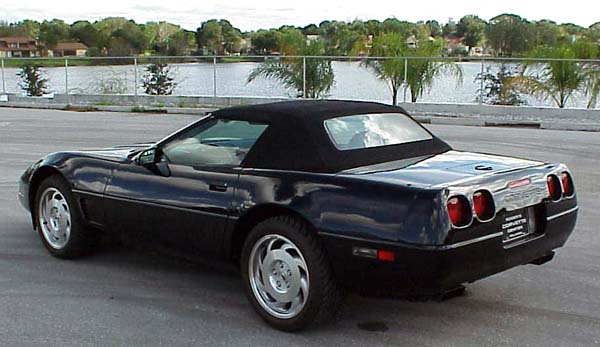 | | | | |
| --- | --- | --- | --- |
| Have you ever wondered what a brand NEW 1995 Corvette convertible looked like when it first rolled off the assembly line? If so, here's your chance to find out. This remarkably pristine 1995 "Triple Black" convertible has registered only 1,813 miles on the odometer. With such low, low mileage, one would expect the exterior, interior, and LT1 engine compartment to be nearly perfect, and they are! If you are looking for a truly like new C4 convertible with loads of class, you'll be hard pressed to find something that fits the bill more than this beauty. Fully loaded, of course, with six speed transmission, black leather sport seats, electronic air conditioning, Bose/CD cassette, etc. Contact us today for more details! | | | |
<<< Click on any photo, above or below, for a larger version! >>>
Click here to view other Corvettes in our Virtual Showroom!
---
1995 Triple Black Convertible
Stock Number 17210

featuring:
Black Exterior
Black Leather Interior
Black Convertible Top
300 HP LT1 Engine
Six Speed Transmission
Dual Power Sport Seats
Electronic Air Conditioning
Bose/CD Cassette Player

1,813 Miles
Sorry... This vehicle has been SOLD!
For more information about this or any of our other fine
vehicles, contact Roger's Corvette Center at (407) 628-8300.
---
Past Corvette Spotlight Features
---
|| Home || Showroom || About || What's New? || Guestbook || Trivia || FREE Pages || Links ||