Corvette Spotlight
January 2002
1996 Grand Sport Coupe
Stock Number 00633
Sorry... This vehicle has been SOLD!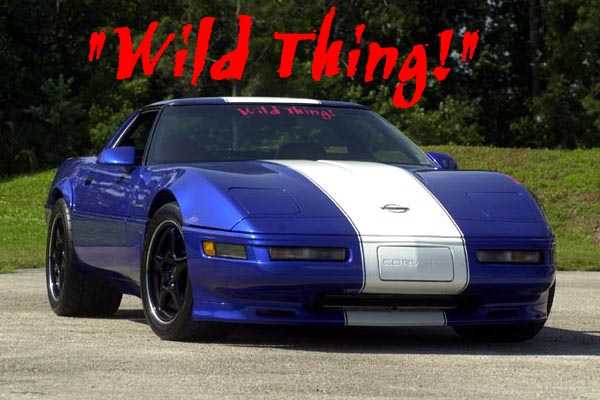 Anyone remotely familiar with Roger's Corvette Center knows that we generally prefer to offer only low mileage, 100% stock Corvettes. But every once in awhile, we come across a modified Corvette that is so unique, so special, that we can't help bend our own rules. The Grand Sport (1 of only 810 coupes) you see here is a perfect example. Nationally known as the Wild Thing, it represents the perfect combination of show and go! This awesome GS was featured in the Nov 2001 issue of Vette Magazine and has been featured on the Corvette... The American Dream TV show. We warn you, this is not the car for the faint of heart! GS #633 has been treated to a host of professionally installed performance enhancements (see below for complete list) by Vinci Hi-Performance and Corvette Masters that has increased its power output to nearly 450 horsepower! Yet even so, it remains perfectly streetable and could be driven anywhere. Besides push-you-back-in-the-seat power, it also features award winning custom paint applied by the experts at Burke Corvettes in Orlando. The new, custom GS paint scheme was precisely applied to the original factory dimensions and all stripes are under highly polished clearcoat, resulting in a smooth, dazzling finish. The engine compartment is highly detailed and the red/black interior immaculate. With over $15,000 in modifications, this Corvette represents a tremendous value and even comes with the remainder of a $0 deductible GMPP extended warranty. If you are ready for a walk on the wild side, the Wild Thing could be your ticket to excitement.

This vehicle was originally sold by Roger's and is owned by our very own webmaster, whom you may contact directly for more information at webmaster@rogerscorvette.com. We know the full history of this car and would be happy to share it with you. You really must see this one to appreciate it.
<<< Click on any photo for a larger version! >>>
---
1996 Grand Sport Coupe
Stock Number 00633


Z16 Grand Sport Option
Admiral Blue/Artic White Exterior
Red/Black Leather Interior
330 HP LT4 Engine
Six Speed Transmission
F45 Real Time Damping Suspension
Dual Power Sport Seats
Electronic Air Conditioning
Bose/CD Cassette Player
Low Tire Pressure Warning System
R8C Museum Delivery Option

Sorry... This vehicle has been SOLD!

---
Appearance Modifications:
$6,000 custom Urethane GS paint job by Burke Corvettes, Orlando
All stripes under multiple layers of clearcoat. No tape or decals
Custom front spoiler and side skirts (stock components included)
Custom floor mats, emblems, door sill guards, interior accessories
Custom "Wild Thing" painted fuel rail covers (stock covers included)
Lowered 1.5" in the rear (easily adjustable to stock height, if desired)
Zaino Show Car Polish products have been used exclusively on this car
Performance Modifications:
BFG G-Force TA/KD tires - 275x40 front, 315x35 rear (stock GSC's available*)
4.10 ("Viper") rear gears - (stock 3.45 gears available*)
TPIS Long Tube Ceramic Coated Headers (stock manifolds available*)
PowerEffects Adjustable Cat-Back Exhaust System (stock system available*)
Random Technology Performance "bullet" Catalytic Converters (stock cats available*)
Edelbrock/BBK 52mm Throttle Body (stock 48mm throttle body available*)
30# SVO Fuel Injectors and Adjustable Fuel Pressure Regulator
Breathless Performance Vortex Ram Air intake (stock air intake available*)
More Performance CNC LT4 Heads (featuring 2.0/1.57 valves, Comp double springs, Comp Pro-Magnum 1.6 roller rockers, titanium retainers, race pushrods, guides, etc).
More Performance CNC LT4 Intake Manifold (larger ports and runners)
Crane 222/230 Camshaft (a powerful cam but with good idle & driveability)
Vinci Mass Air Flow Sensor and Relocated Inlet Air Temperature Sensor
White Racing Products Short Shifter (stock appearance but 40% less throw)
ZR51 Performance C4 Driveline Reinforcement Plates (increases rigidity)
Line Lock Roll Stop (allows warm up of rear tires without brake wear)
Harlan Mini-Shift Light (hidden in A/C vent, invisible until you need it)
CAGS Disconnect (eliminates troublesome 1st-to-4th skip shift feature)
Vinci Constant Fan Monitor Controller w/160 Degree stat (runs 20° - 30° cooler)
Computer Reprogramming by Ed Wright at Fastchip (www.fastchip.com)
Engine Building by Cor-Vette Masters, Orlando (www.corvettemasters.com)
Dyno Tuning by Vinci Hi-Performance, Orlando (www.vincihiperformance.com)

* For most of the above, "available" means at additional cost
Additional Extras Included:
Remainder of 50K mile GMPP Extended Warranty, $0 deductible
Custom GS Floor Mats, Door Sill Protectors, Window Sticker
Build Sheet, Original Owners Manual, Sales Brochure, etc.
Fresh oil/filter change and MotorVac fuel system tuneup

---
For more information about this or any of our other fine
vehicles, contact Roger's Corvette Center at (407) 628-8300.
---
Past Corvette Spotlight Features
---
|| Home || Showroom || About || What's New? || Guestbook || Trivia || FREE Pages || Links ||