Corvette Spotlight
March 2004
1997 Nassau Blue Coupe

Stock Number 00390

Sorry... This vehicle has been SOLD!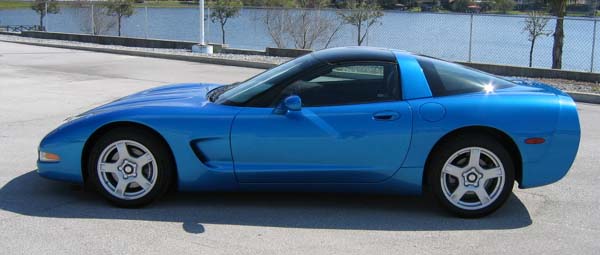 | | | | |
| --- | --- | --- | --- |
| This month's Spotlight Car is a flawless 1997 Corvette Coupe finished in brilliant Nassau Blue Metallic with a perfect black leather interior. It is highly unusal to find a 1997 Corvette with such a low VIN # (this one is 00390), especially one is such impeccable condition. This outstanding example is also special not only because of its remarkable condition, but because it is one of only 292 Corvettes which were produced in 1997 in Nassau Blue Metallic. With just under 14,000 miles, it is heavily optioned with Six Speed Transmission, Dual Zone Air Conditioning, Fog Lamps, Memory Package, CD Changer, F-45 Real Time Damping Suspension, Glass Top, and more. This beautiful Corvette is unique, a true eye catcher, and ready to go! | | | |
<<< Click on any photo, above or below, for a larger version! >>>
Click here to view other Corvettes in our Virtual Showroom!
---
1997 Nassau Blue Coupe
Stock # 00390

featuring:

Nassau Blue Exterior
Black Leather Interior
Six Speed Transmission
Dual Power Sport Seats
Dual Zone Air Conditioning
Memory Package
Fog Lamps
Floor Mats
CD Player
CD Changer
F-45 Real Time Damping Suspension
Glass Top
Luggage Shade

Onl 292 Corvettes in this color in 1997!



14,000 Miles

Sorry... This vehicle has been SOLD!

For more information about this or any of our other fine
vehicles, contact Roger's Corvette Center at (407) 628-8300.
---
Past Corvette Spotlight Features
---
|| Home || Showroom || About || What's New? || Guestbook || Trivia || FREE Pages || Links ||