Corvette Spotlight
June 2004
1998 Aztec Gold Corvette Coupe

Stock Number 09036

Sorry... This vehicle has been SOLD!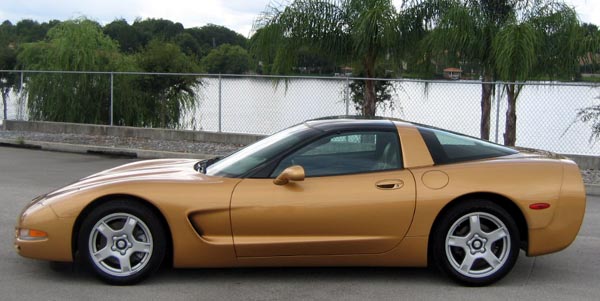 | | | | |
| --- | --- | --- | --- |
| Looking for a super unique, rare C5? How about this beautiful 1998 coupe? It is one of only 15 finished in this one year only color of Aztec Gold Metallic! At once equally rare and beautiful at the same time, it is fully equipped with Light Oak Leather interior, Automatic Transmission, Dual Power Sport Seats, Dual Zone Air Conditioning, Memory Package, Fog Lamps, Floor Mats, Glass Top, CD Changer, Rear Compartment Cargo Cover and Cargo Net. And with only 17,000 miles it drives as well as it looks, too. Don't miss this opportunity to own this unique factory Corvette. Call today. | | | |
<<< Click on any photo, above or below, for a larger version! >>>
Click here to view other Corvettes in our Virtual Showroom!
---
1998 Aztec Gold Corvette Coupe
Stock # 09036

featuring:

Aztec Gold Metallic Exterior
Light Oak Leather Interior
Automatic Transmission
Dual Power Sport Seats
Dual Zone Air Conditioningr
Memory Package
Fog Lamps
Floor Mats
CD Changer
Glass Top
Rear Compartment Cargo Cover
Factory Window Sticker

1 of Only 15 Aztec Gold Corvettes Produced in 1998
One Year Only Color! Super Unique!



Only 17,000 Miles!

Sorry... This vehicle has been SOLD!

For more information about this or any of our other fine
vehicles, contact Roger's Corvette Center at (407) 628-8300.
---
Past Corvette Spotlight Features
---
|| Home || Showroom || About || What's New? || Guestbook || Trivia || FREE Pages || Links ||