Corvette Spotlight
March 2005
1995 Yellow ZR-1
Stock # 00255

Sorry... This vehicle has been SOLD!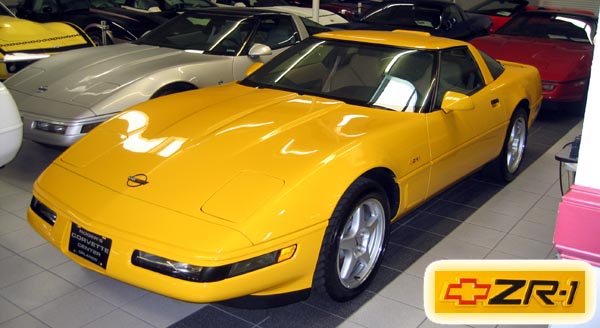 | | | | |
| --- | --- | --- | --- |
| Fabulous! How else would you describe this extremely rare and highly collectible 1995 ZR-1 finished in a brilliant bright yellow exterior with the equally rare light beige leather interior? The ZR-1 Performance Packge includes the legendary 405 Horsepower LT-5 engine and this particular example is fully optioned... it comes equipped with Dual Power Sport Seats, Electronic Air Conditioning, Bose CD and Cassette Player, FX-3 Adjustable Suspension, Both Tops, and the Low Tire Pressure Warning system. Only 448 ZR-1's were built in 1995, the last year of production. Only 49 came in Yellow and of those, only 12 had the light beige interior. With only 4,000 miles this is not only a very desirable Corvette but also a rare find and a highly collectible automotive icon. Call today for more information on this unique ZR-1 Corvette. | | | |
<<< Click on any photo, above or below, for a larger version! >>>
Click here to view other Corvettes in our Virtual Showroom!
---
1995 Yellow ZR-1
Stock # 00255

featuring:

Yellow Exterior
Light Beige Leather
ZR-1 Performance/Appearance Packge
405 Horsepower LT-5 Engine
Six Speed Transmission
Dual Power Sport Seats
Electronic Air Conditioning
Bose CD/Cassette Player
FX-3 Adjustable Suspension
Both Tops
Low Tire Pressure Warning
Fully Optioned

A Total of 448 ZR-1's Were Produced in 1995
The Last Year Of Production For The ZR-1!
Only 49 Were Produced In Yellow in 1995
Only 12 Of Which Had Light Beige Leather Interior

Super Unique and Highly Colletible

Only 4000 Miles!


Sorry... This vehicle has been SOLD!

For more information about this or any of our other fine
vehicles, contact Roger's Corvette Center at (407) 628-8300.
---
Past Corvette Spotlight Features
---
|| Home || Showroom || About || What's New? || Guestbook || Trivia || FREE Pages || Links ||