Corvette Spotlight
June 2006
1996 Grand Sport Convertible
Only 6000 miles

Stock # 00108

JUST IN TIME FOR THE HUGE GRAND SPORT REUNION
AT CORVETTES AT CARLISLE, AUGUST 2006.

Click HERE for more information!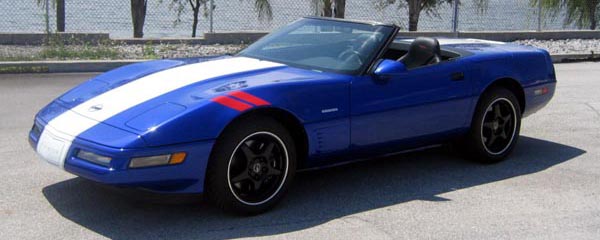 | | | | |
| --- | --- | --- | --- |
| This 1996 Grand Sport Convertible (# 108) is a superb example of this very limited production and extremely desirable Corvette whose ever increasing value seems to have no end. And no wonder, since only 190 of these special edition convertibles were ever built and of these, only 61 were produced with the combination of the FE1 suspension and black leather interior. Finished in brilliant Admiral Blue with a striking white stripe across the length of the car and those famous red racing hashmarks, this very special Corvette is a real attention getter. Equipped with the one-year only 330HP LT4 engine and 6-speed manual transmission, the interior and exterior are immaculate, as you would expect with only 6000 miles to date. Demand for the 1996 Grand Sport seems to be unending, but the supply of mint condition examples like this one is not. | | | |
---
NOTE! From August 25-27, 2006, the Official Grand Sport Registry will break all records when they gather over 100 of these rare 1996 Grand Sports for one of the nation's oldest and largest Corvette shows at Corvettes at Carlisle in Carlisle, Pennsylvania. This represents over 10% of the entire production of this extremely limited edition Corvette and will be a fitting tribute as they celebrate their 10th Anniversary. Try to attend this monumental occasion. We'll be there, for sure!
Click for Corvettes at Carlisle info.

Click for Grand Sport Registry info.


---
<<< Click on any photo, above or below, for a larger version! >>>
Click here to view other Corvettes in our Virtual Showroom!
---
1996 Grand Sport Convertible

Stock # 00108

featuring:

Admiral Blue & Arctic White Stripe Exterior
Z16 Grand Sport Performance/Appearance Package
Black Leather Interior w/Grand Sport Embroidery
White Convertible Top
Six Speed Transmission
330 Horsepower LT4 Engine
Dual Power Sport Seats
Electronic Air Conditioning
Bose CD/Cassette Player
Low Tire Pressure Warning
---------------------------------------------------
1 on only 1,000 Grand Sports Produced
1 of just 190 Grand Sport Convertibles
Super Unique and Highly Collectible
Just Over 6,000 Miles



Offered at $49,900


For more information about this or any of our other fine
vehicles, contact Roger's Corvette Center at (407) 628-8300.
---
Past Corvette Spotlight Features
---
|| Home || Showroom || About || What's New? || Guestbook || Trivia || FREE Pages || Links ||